It's a shortcoming if we don't visit Fansipan when traveling to Sa Pa. Fansipan is called " the roof of Indochina" with the high 3,143m. Tourists come to SaPa, they really want to conquer Fansipan at least once. Someone like adventure so they spent time for climbing the mountant but others don't have much time and they choose another way- traveling by cable car.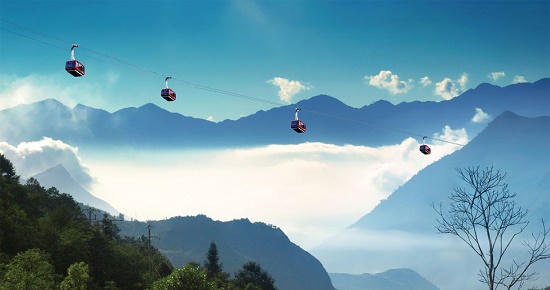 Fansipan Cable Car
Never think that exploring Fansipan by cable car is boring; for me, it's a incredible experience. From the town, you have to go 5km to the station; the station and the system of cable car are built by Sunworld Group. Outside the station, the landscape is wonderful with many kinds of flower. I guest you will take many pictures to keep every moment because of the beauty of the landscape in here. In the station, you have to buy ticket, the price is 700 000VND for adults and 500 000VND for childrens who from 1m to under 1,3m. Some notices for you that the ticket is only valid on day and cable car ticket is two-way ticket. The cable car is very big, 30-35 people can get in.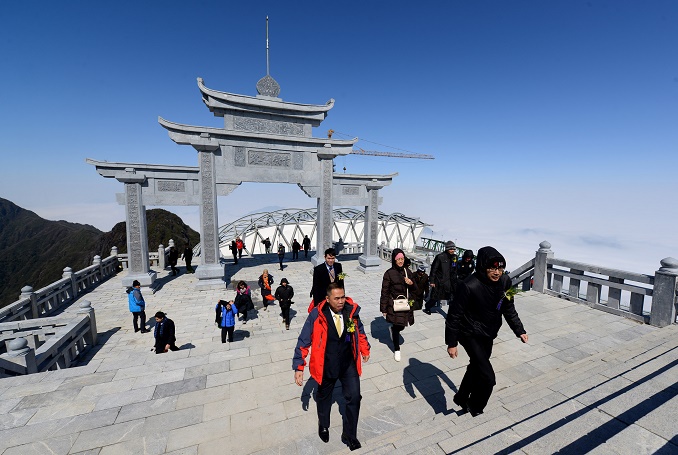 Our journey to the roof of Indochina by cable car start from now. A strange feeling that you've never had before, it seems lightly like you're on the cloud in the sky. Terraces in the sunshine, houses, … they become smaller than usual; the forests become majestic when we look from high. It takes 20 minutes to travel by cable car; the closer to the destination, the more clouds and everything can't see clearly. Come to the destination, you still have to climb 600 steps to reach the mountant peek or you can choose another way- traveling by train. The ticket's price is 150.000VND for both adults and childrens but you have to wait so long to get the train. Therefore I think, walking is a better choice. Along the road, you will see a Pagoda, it's covered by fog and it looks so fanciful. Keep going, a giant Buddha statue, the tower which has 11 storeys,… absolutely make you surprise. If you feel exhausted, don't worry, you can buy some sausages and drinks from fast food carts. When you get to the top, congrats, you completely conquer "the roof of Indochina". You can take some pictures to have nice memories in here. Hope you have a great experience Fansipan by cable car.