The main pilgrimage season at Chùa Hương is during the Hương Pagoda festival, when hundreds of thousands of pilgrims make their way to Hương Tích cave and the other temples. The longest lasting festival in Vietnam, Perfume Pagoda festival officially begins on February 15 on the lunar calendar, but the peak in visitors lasts from the middle of January to the middle of March. The Festival is seen by some as a good opportunity for young people to find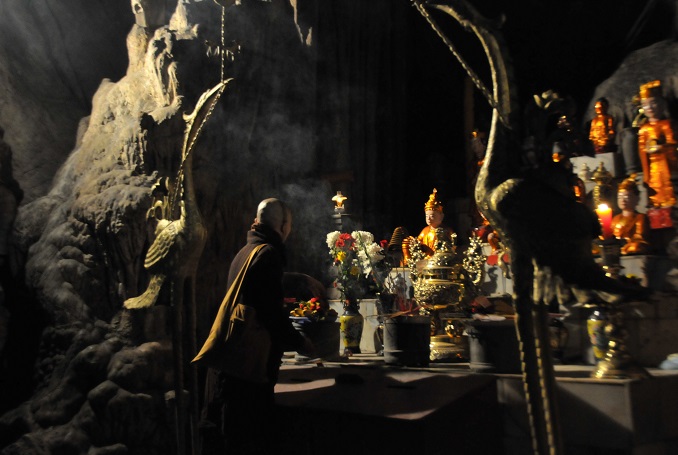 romance and begin courtships. Many restaurants in Hương Pagoda kill and butcher wildlife including civets, deer, porcupine, wild pig and serve it as special, rare or expensive meat which is particularly popular during the festival period.
7:45 - 8:30 AM: Being picked up from your hotel in Hanoi Old Quarter. Then we spend about two hours driving through the picturesque countryside and back roads to the village of Duc, where we get on a small boat for a one hour trip up Yen stream to Thien Tru pagoda.
The boat journeys down a narrow flowing stream fringed by rice fields, temples and grass and you will have the option to stop and visit some of these temples before heading to Huong Tich cave.
You may trek up (or take cable car to the mountain) to Perfume pagoda (top of the mountain), enjoy the spectacular landscape and learn more about typical Vietnamese Buddhist religious.
Descending and have lunch at restaurant. Then get back to Thien Tru quay to visit more beautiful and precious sculptures, taking photos, worshiping, getting on boat again back to the wharf and drive back to your hotel in Hanoi.
Price: USD48/pax
Included:
A/C Transfer, Tour guide, boat fees, all pagoda tickets, Lunch, 1 bottle of water.
Excluded:
Drinks, personal expenses and other not mentioned above, Travel insurance, Tips