Hanoi foods, Hanoi Cooking Class
Spring Rolls
(Hanoi Cooking Class - OPTION 1)
Not just prawn and pork! The humble spring roll reflects the changes in Vietnamese cuisine as you travel the length of Viet Nam. In this class we will take you on the journey from preparing the hearty seafood roll with mayonnaise from the north to the fragrant fresh rolls of the south.
Lap Cheong and Jicama spring rolls; Beef and mustard leaf rolls; Fried pork spring rolls; Hue spring rolls; Pork skewers with rice paper.
Hanoi and the Northern Highlands
(Hanoi Cooking Class OPTION 2)
The Chinese culinary influence remains in the Capital and the Northern Highlands, but the dishes are truly Vietnamese. In this class we will prepare some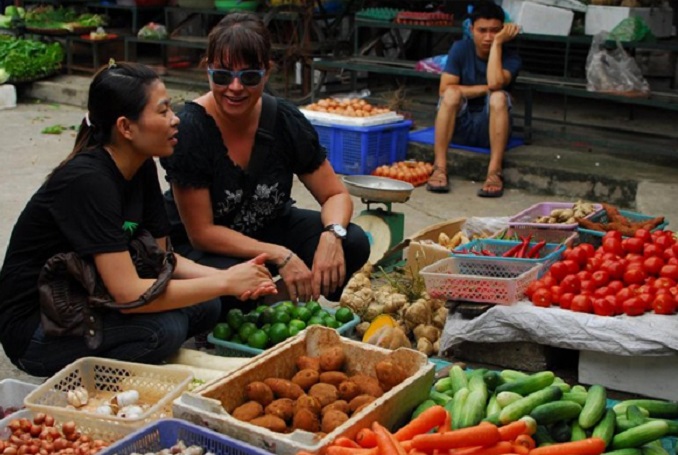 old Hanoian favorites like caramel pork but will also explore some lesser known dishes from the highlands.
Ginger chicken; Banana flower salad; Prawn and omlette spring roll; Classic dipping sauce; Sweet corn and coconut soup.
Food from The Coast
(Hanoi Cooking Class OPTION 3)
On the comparatively dry southern coast, menus are built around fresh fish and the creative use of aromatics and spices, not to mention, for the Vietnamese, the comforting aroma of nuoc mam, fish sauce.
Squid and pomelo salad; Caramel fish; Lacy spring rolls with prawn, crab and taro; Classic dipping sauce; Steamed sweet dumpling with mung beans.
Vietnamese Street Food
(Hanoi Cooking Class OPTION 4)
Take home some of the hustle and bustle of Ha Noi's unique street life by learning how to make some of the delicious food you have enjoyed on the streets of Vietnam.
Beef noodle soup; BBQ pork two ways with rice noodles; Fried pork spring rolls; Green papaya salad; Fruit cup.
BBQs and Salads
(Hanoi Cooking Class OPTION 5)
On the hot and humid summer days in Viet Nam there is always the faint smell of smoke in the air, coming from the countless charcoal braziers on which family and restaurant meals are prepared. This class will cover a number of Vietnamese dishes that perfectly suit casual summer dining.
BBQ pork ribs; Smokey eggplant with dried shrimps; Beef with green peppercorns; Cabbage and chicken salad; Seasonal fruit yogurt drink.
Vegetarian
(Hanoi Cooking Class OPTION 6)
Vietnam produces some of the best tofu in the world, so make the most of it. In this class we will make some tofu dishes rarely seen outside pagodas.
Bitter gourd filled with tofu; Tofu spring roll; Banana flower salad with peanuts and sesame; Taro cakes; Smokey eggplant with chilli and thai basil.